Universal MIDI controllers MIDI Grande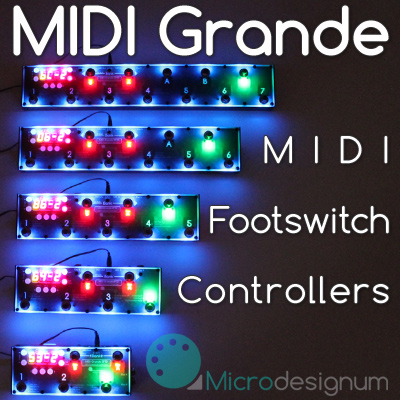 Microdesignum MIDI Grande footswitch controllers are transmitting the MIDI commands Program Change, Control Change and/or synchronization commands (Sync, Start, Continue, Stop) to guitar amp or effect, which respond by switching to a different sound, effect, etc. These controllers are built with emphasis on easy to use buttons, as well as swift programming and mechanical durability. They work with any gear that is controllable by MIDI. The blue backlight allows comfortable operating even in the dark.

Manual - here
Main features:
5-12 footswitches (depending on the model), 2 of them for the bank selection

Different settings for the first and the second press of the footswitch - 2 layers (red and green)
Up to 8 MIDI commands on each layer
32 banks
2 inputs for expression pedals
The position of the expression pedal is indicated by the displayed number and by the color of the sign Exp A or Exp B changing continuously from blue to red
Adjustable range of the expression pedals from minimum to maximum, including also the reversed progress
Each register footswitch can be configured globally to the program, stompbox, value+ or value- mode
The controller displays tuner in bidirectional connection with Kemper, G-Major or Axe-FX 2
Easy copying the presets using the Save As function
Phantom power on MIDI In and MIDI Out connectors
7 special backlit buttons around the display for comfortable presets programming
The controlling is based on transmitting predefined MIDI messages to the MIDI output after pressing the footswitch or changing the position of the expression pedal.
Grande means big in Italian. These MIDI controllers are bigger in comparison to our MIDI Piccolo miniature MIDI controllers, but they still keep reasonably small size. The smallest model is only 20 cm wide (that is less than the width of an A4 paper). You can carry this controller in your guitar case.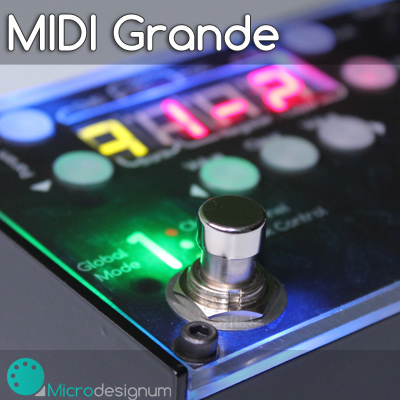 This MIDI controller is built with emphasis on mechanical durability. That means it is suitable for professional rock guitarists who wear heavy boots. Footswitches are from very durable line of switches called Antivandal, but they remain very silent. Pushing the switch won't be audible even on acoustic or club performances. The top backlit side is made of a special shockproof material. THe bottom of the case provides nonslip attachment to the floor. The controller is tilt slightly forward.
Using the controller is very easy – MIDI controller has 3 to 10 registers (depending on the model) in 32 banks. Each register has two layers of presets – the first press activates red layer (the number of register lights up red) and the second press activates green layer (the number of register lights up green). Another push of the switch repeats the cycle - red, green layer etc. Each layer can switch on a combination of effects for particular song or its part. Each layer of each register can send arbitrary combination of up to eight MIDI commands Program Change or Control Change and two externally connectable expression pedals. Each bank can contain a set of effects for different parts of repertoire.
These types of MIDI footswitch controllers are sometimes also called MIDI pedals or MIDI footswitches.
Note for laymen: The controller the controller doesn't contain any guitar effects, it only controls connected effects or sound processors, which must be controllable by MIDI. This can be easily distinguished by a 5-pin (or 7-pin) DIN connector positioned on the device.
Power supply
The MIDI controller has got its own rectifier and stabilizer which means it handles wide voltage range. A power adapter is a part of the package, but it is also possible to provide power supply from external sources. Power source should range between 9 and 15 V AC or DC with at least 400 mA power take-off. The connector is common 2.1 mm power supply jack, with arbitrary polarity (center either negative or positive). It is also possible to sink or source the power from 6th and 7th pin on the seven-pin MIDI IN/MIDI OUT connectors – that's why there are those two additional pins on the seven-pin connectors. All power supply connectors are interconnected, to make sure that when one connector is used for power supply, the other two connectors carry the power further.
Communication with Kemper Profiling Amplifier
Since 03/2015, a part of MIDI Grande's firmware is also communication with guitar processor Kemper Profiling Amplifier - KPA (it is not only a multi-effect, but also a simulator of guitar amps and it is considered the world's best). When the MIDI controller is in MUTE mode, bi-directional communication is set up and the controller receives information about the tuner from the KPA and displays them using LEDs:
To display the results sent from the KPA tuner, you need to globally enable the bidirectional communication - see the manual.
Communication with TC Electronic G-Major and Fractal Axe-FX 2
Since 07/2015, MIDI Grande's software includes also communication with guitar processor G-Major (tested) or G-Major 2 (not tested yet, but it should work well too). And since 03/2016, a communication with Fractal Audio Systems Axe-FX 2 is also implemented (probably works also with other models). When the MIDI controller is in MUTE mode, bi-directional communication is set up and the controller receives information about the tuner from the guitar processor and displays them using LEDs. The result is the same as on the video above.
To display the results sent from the G-Major or Axe-FX tuner, you need to globally enable the bidirectional communication - see the manual.
Tuner over MIDI with Atomic Amplifire?
Many customers ask us regarding the compatibility of MIDI Grande with Atomic Amplifire pedal. It works well. Moreover, if Amplifire manufacturer would implement to their software sending the tuner results to MIDI OUT, we could implement the visualisation of the tuner similarly as with Kemper, Axe and G-Major. Unfortunately, Atomic company never anwered to our emails regarding this feature, although they promise instant tech support. If you are intersted in this feature, please contact the manufacturer of Amplifire. If many customers will request sending the tuner results over MIDI, they should consider to implement this feature.
Competition comparison
MIDI Grande is the world's most compact MIDI controller, it has the best ratio of value to size and even cost. And yet the distance between footswitches of MIDI Grande (72 mm) is greater than of Behringer FCB1010 (70 mm) and the gap between the edges of footswitches is 64 mm, which greatly reduces the probability of accidentaly pressing the adjacent button. (The gap between adjancent footswitches of FCB1010 is only 42 mm.)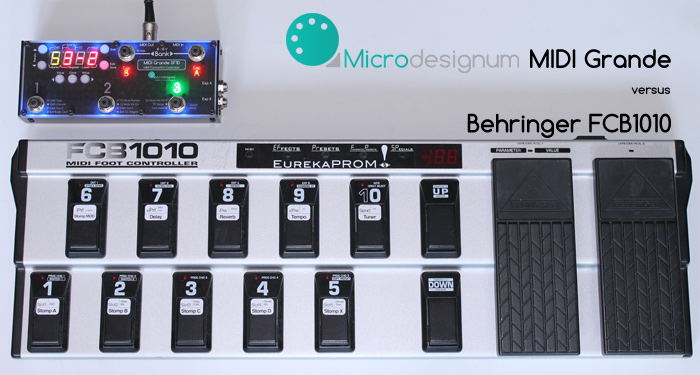 Size comparison of MIDI Grande 5F1D and Behringer FCB1010
Customization - Let's develop together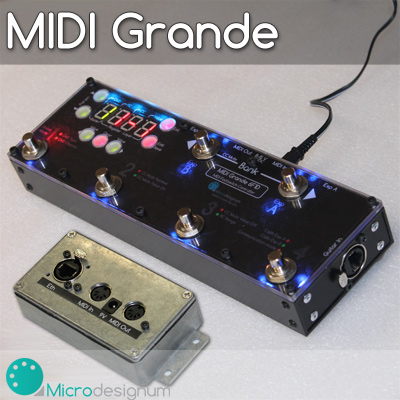 If needed, we can customize any part of the MIDI controller, for example bring another button on the connector. New ideas for improvement are still coming. When a customer comes up with an interesting idea, he may get a MIDI controller with customization, which then becomes permanently included as a standard feature of the product. For example, the smallest 5F1D model was initially a custom-made MIDI controller for a customer Joost from the Netherlands and now it is being offered as a standard product.
← The picture on the left shows an example of a custom built-in EtherCon connector for customer Jarmo T. from Finland who wished to conduct bi-directional MIDI and supply using a single cable, with a connector that would be more durable than the traditional DIN7. The connector box for fitting into a rack is a part of custom adjustment.
Models and their prices
All models are usually in stock or available in a short time. Click on a picture to show a gallery of the models.
MIDI Grande 5F1D - 3 registers, dimensions: 204×80×47 (35) mm

MIDI Grande 6F1D - 4 registers, dimensions: 254×80×47 (35) mm

MIDI Grande 8F1D - 6 registers, dimensions: 324×80×47 (35) mm

MIDI Grande 10F1D - 8 registers, dimensions: 404×80×47 (35) mm

MIDI Grande 12F1D - 10 registers, dimensions: 474×80×47 (35) mm

Prices of MIDI Grande controllers
By clicking on the link bellow you will be redirected to our e-shop where you can buy the controller. Shipping cost is not included in the price of the product. It is cca $5-$8 USD according to weight. You will see the total price after adding the items to a cart.
Model
Price / Variant
 
Standard
Plus
MIDI Grande 5F1D
275.00 USD
Eth: 270.00 USD
MIDI Grande 6F1D
283.00 USD
309.00 USD
MIDI Grande 8F1D
317.00 USD
333.00 USD
MIDI Grande 10F1D
334.00 USD
363.00 USD
MIDI Grande 12F1D
461.00 USD
392.00 USD
 
Standard: basic variant

Plus / Eth: extended variant that allows to conduct all signals via single Ethernet cable. Compared to the standard variant, it contains moreover:

ethernet connector with MIDI signals and power supply
aluminium connector box for screwing to the rack with splitting the signals from ethernet cable to MIDI In, MIDI Out and power supply
VAT information: Prices include 21% VAT. If you are a EU company and you are a VAT payer, we can invoice the price without VAT. Providing your VAT number is necessary in this case.
Electronic kit
We also offer these controllers as separate electronic kit without the box and power supply adapter for favorable prices. It is completely functional and tested set of modules and components with display and long enough cables for building into your own box or pedalboard. It is suitable for thrifty handyman who want high-quality MIDI controller for the lowest price on the market.
How to order
It's possible to order the items in our eshop. Payment is usually carried out via Paypal in advance at the end of the ordering process. The bank transfer in Euros or USD is also possible.
In case of any complications with ordering, contact us via email and we will arrange the details of the shipment and payment.
If you have any questions, do not hesitate to contact us.
Customer feedback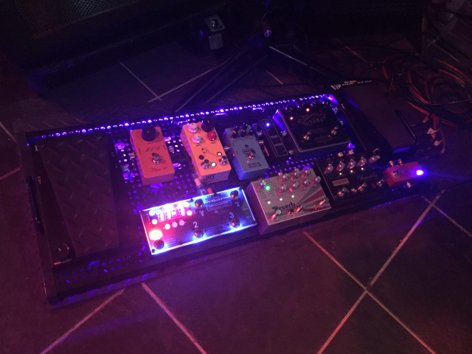 Thanks a lot, for the fast delivery! I got the package yesterday and I've already implanted the device into my guitar rig. Just wanted to let you know I am very happy with the result. For me, the MIDI Grande 5F1D surely is compact at it's best! And the LEDs make it even better to find my main switches (see photo:-) ), which I never thought about when I was considering buying your product.
Evert W., the Netherlands, 08/2017
"I received my 6F1D yesterday. Played with it for no more than 2 minutes to figure out how to control 2 devices on different channels and it was super easy. I love the design and attention to details, a very thought out product. I´m so happy I found it and it will enable me to build a really small board with exactly the same features as my current beast of a pedal board. Can´t thank you enough and I can´t wait to start building my new and improved pedal board. I love the 2 layer feature, really smart! Again thank you very much."
Roland B., Sweden, 05/2017
"I just received my MIDI Grande 6F1D unit and want to tell you right away that I am very pleased with it! I will certainly learn more about it's capabilities as I continue to expand my setup, but my first impression after plugging in and testing it is... Wow!!!!! It works as intended and it looks great too! I love the layout and LED lighting! Easy to access, very easy to see and a very solid feel overall. Very cool! I will definitely encourage others to buy your products. Thank you so much for providing such a great midi control unit!"
Larry R., Canada, 05/2017
"The red and green layers are really cool, I have tasted it and I fully use it. The same sound, where I just add a flanger or chorus, I put it in the green layer and I know where it is. It's really cool and it hugely saves the positions (it has blocked me the whole bank with five pedals before and now I have no problem)."
Aleš V., Czech Republic, 05/2017
"I'm very excited to use the Grande at my next show! I've never felt so much in control over my stage sound! I think it is a very clever controller and it looks very classy, too!"
Steven K., USA, 03/2017
"Hey, I've had the pedal for almost a month now and I just wanted to say that it is fantastic! Great build quality and does everything I need it to do - plus it look great! Thank you so much - I'm a very happy customer!"
Owen C., Canada, 02/2017
"I'm looking for a pedalboard to use it in live situations with my Kemper and after 4 months of research I choose the MIDI Grande 8F1D because it seems to be the best choice for me."
Paolo F., Italy, 09/2016
"Thanks a lot! It's a great product!"
Stefan S., Germany, 06/2016
"Overall I find this to be a great device with a lot of flexibility - thanks for the great product."
Phil D., Qatar, 05/2016
"I love the pedal. I configured it without even looking at the manual!"
Jonathan M., USA, 03/2016
"I must say that it is a wonderful pedal in every aspect! I set it up quite easily with my Atomic Amplifire; both expression pedals goes 0-127 flawlessly, and bank/preset program changes likewise. Very nice, indeed; love the colours! Thank you for a superior product!"
Bjarne R., Denmark, 02/2016
"You have a great product and I wish you every success with it!"
Jonathan B., UK, 01/2016
"When I push button 1 to red, Kemper switches to performance 1 slot 1. When I push again (green), the stomp box A in this slot is activated. If I push again, the stomp box is deactivated. This is really great as with a single button I can select a preset and still have chance to control effects. I explicitly have the performance and slot coded in the register layer. It takes 3 of the 8 allowed MIDI commands, thus there is still many commands to set up the effects as required. I am really happy with the Grande. It took me an hour to realise the user interface procedure, but the fact that you can have 8 commands per layer and you can have both PCs and CCs combined makes Grande a powerful tool! Great thanks for this!
PS. The Kemper tuning display in Grande is awesome! I do not need to bring my TC Electronics Polytune to the stage anymore."
Jarmo T., Finland, 12/2015
"Everything works excellent and I just think what is the best way to utilize your excelent MIDI pedal. Thank you very much, pleased MIDI Grande user!!"
Timo T., Finland, 12/2015
"It is working very well. Programming is very easy when I am used to it. Thanks for this top product and service too."
Joost de K., Netherlands, 11/2015
"It's really a perfect pedal in all - really cool! I would say that you have no competition in the field of MIDI pedals - simple, easy and reasonably priced."
Petr H., Czech Republic, 10/2015
"The design is great, the blue backlighting is really cool. I'm glad I haven't bought FCB1010 and have taken this gem instead."
Petr C., Czech Republic, 07/2015
"Thank you very much. All is working absolutely great. It's amazing! I can make up my own loop system and that suits me. Thanks!"
Honza Ž., Czech Republic, 08/2014
Photogallery