MIDI Agente Relay Uno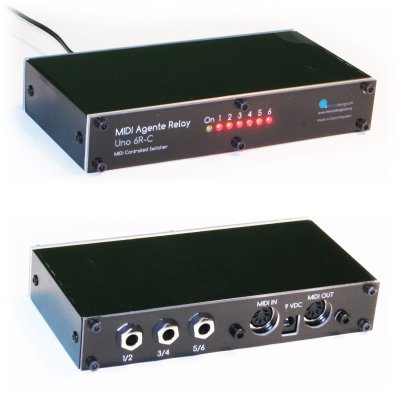 This multi-switcher controlled by MIDI data is used in musical equipment as a replacement of mechanical foot switches which switch the channels in a guitar amp. By pressing a foot switch of a MIDI controller can be switched more relays of the controlled MIDI switcher. Time-critical pressing of more pedals during guitar playing is eliminated. It is also possible to switch some other signals by this switcher.
The MIDI switcher responds on incoming MIDI data by controlling up to 7 relay switchers according to MIDI commands Program Change or Control Change, while the combination of the switched relays corrresponds to the bit mask of the program number. So 128 combinations of relays is available for 7 relays by default. It is possible to arbitrarily reconfigure the combination of the switched relays for each program number (see lower).
A relay is an electromagnetical component that using an electromagnet switches mechanically to 2 positions: when switched off, the signal doesn't go thru the relay; when switched on, the signal goes thru the relay with negligible losses. With small switching frequencies, they have much better properties than semiconductor switchers that can add some signal distortion.
Input:
Outputs:
1× MIDI OUT/THRU
up to 16× relay on:

TRS Jacks 6.3 mm ("stereo") by two (1+2, 3+4 etc.)
TS Jacks 6.3 mm ("mono") individually
Power supply:
Configuration:
All parameters can be configured using web tool MIDIConfig. It works in Chrome-based browsers.
Variants and prices
We offer these variants of this MIDI switcher:
Standalone module without an enclosure for buil in an musical equipment (an amplifier) 
Final miniaturized product in an enclosure
Final product in a rack 1U box