MIDI Piccolo 2F1D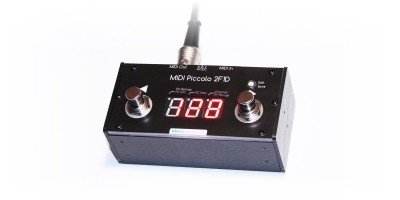 Microdesignum MIDI Piccolo 2F1D is a miniature foot MIDI controller with LED display and quiet footswitches for controlling guitar effects controllable via MIDI.
This controller sends MIDI command Program Change. It's a standard MIDI command for changing the index of musical instrument. It is used for controlling the number of the effect in guitar effect devices.
The MIDI controller is made with a special emphasis on mechanical resistance. The controller body is made of aluminum. Footswitches are quiet and they don
t disturb even in the intimate and club appearances. Rubber non-slip feet ensure adhesion to a floor.
The blue backlight of the top panel looks interesting and the controller is well visible on a stage even in the dark.
MIDI Piccolo 2F1D is smaller and cheaper replacement for TECH21 MIDI Mouse controller.
Control Buttons
2 footswitches ←Program Change/Program Change→ for subtract/add the program number (MIDI command Program Change)
Edit/Save button for comfortable programs remapping and global settings
MIDI Interface
MIDI OUT - legacy DIN7 connector with phantom supply on pins 6 and 7
MIDI IN - input for merge a MIDI signal from another device
Function
When the footswitch is pressed, the controller sends a command into MIDI output to change the program number (PC - Program Change) to the actual number, which is indicated on the display. It can be remapped, thus for example PC#10 can be set on program number 2.
Display and Indication
High brightness segment LED display: 3 red characters show the selected number of MIDI program - effect (0-127 or 1-128). The display shines very brightly and displayed characters have sufficient contrast even in direct sunlight exposure and also do not glare even in complete darkness.
Power Supply
Supply connector for connecting supply adapter.
Phantom supply via MIDI cable: either AC or DC voltage 8 - 15 V on pins 6 and 7 of DIN7 connector. (If needed, we can connect supply also on pins 1 and 3 as a custom adjustment.)
Manual
Web Manual for MIDI Piccolo 2F1D
Video
Variants and prices
| Product | Description | Price |
| --- | --- | --- |
| Module MIDI Piccolo 2F1D without footswitches | Standalone MIDI Module without box and without footswitches programmed for function of this controller | 100.00 USD |
| Module MIDI Piccolo 2F1D with footswitches | Standalonelone MIDI Module without box and with footswitches programmed for function of this controller | 113.00 USD |
| MIDI Piccolo 2F1D | Complete MIDI controller in aluminium box, with supply adapter | 160.00 USD |
We can customize each individual unit according to the customer requirements. If interested, please contact us.