Expression pedal with MIDI toe switch for Line6 M13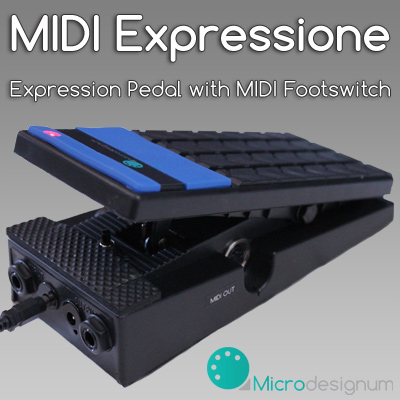 MIDI Expressione is an expression pedal with built-in miniature MIDI controller and with microswitch under the toe of the pedal. It greatly simplifies operation of wah-wah in multi-effects, including turning on and off by pressing the toe of the pedal.
MIDI expression pedal with footswitch under the toe is used for controlling MIDI-controllable guitar effects, as for example Line 6 M13, which hasn't got an input for external switch under the toe of the pedal. Using MIDI Expressione, pressing another button for switch on/off the Wah is not necessary, which usually has to catch in a very short interval in live performance.
Controlling
At the beginning of the segment with the wah-wah pedal, press the tip of the expression pedal. This sends the MIDI command to the MIDI output that switches the wah-wah in M13. At the same time a LED lights on the pedal. The foot is on the pedal, so you can start right away to play with wah. After the end of the passage with wah-wah, just press again the tip of the pedal, thus a MIDI command is sent to MIDI output that turns the wah-wah pedal off. At the same time the LED goes out.
Example
Matt C. from Australia uses the MIDI Expressione this way: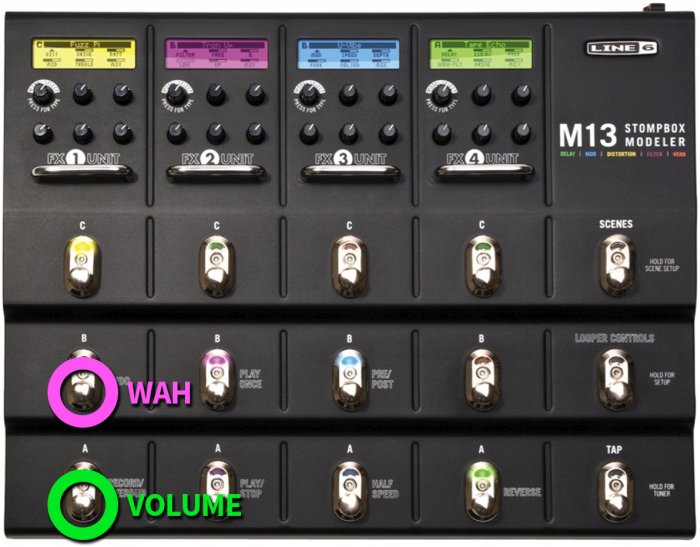 "The patch has the default Volume FX slot on (Green), which can be controlled by the pedal via the standard Line6 expression input, but when I click the toeswitch it flicks the wah FX (Pink) slot on. Another Toggle will take it back to the Volume FX slot again via MIDI."
Video
Video with a demonstration of his own creation recorded © Jan Zatloukal from Czech Republic, Central Europe.
Variants and prices
Variant
Only toe switch
Pedal position and 

toe switch

Standalone programmed MIDI module with connectors, tested, fully functional
65.00 USD
72.00 USD

Building in to the customer's expression pedal sent to us.
The price is indicative, it can be specified after dismantling and checking the pedal.

Only for EU customers. Otherwise, there are many absurd customs fees when the pedal is shipped from non-EU countries for improving and then shipped back.

cca $100 USD
cca $120 USD
Expression pedal with built in MIDI mod
140.00 USD
154.00 USD